At Dream Signs, we receive many requests from companies that are attending tradeshows and want us to help them make their time as successful as possible. Businesses like these appreciate that there are many ways to build customer relationships, but nothing is quite like meeting people face-to-face.
It's not enough to stand at a tradeshow handing out brochures and business cards, so they come to us for our expertise in creating displays for tradeshows. Our printing machines are able to deliver large format, high-resolution graphics that will draw visitors to your stand. If you're looking for something more portable, our rollable vinyl adhesive graphics and retractable banners pack a punch and can be carried and transported with ease.
Whatever the size of your business and whatever industry you are in, Dream Signs can help you connect with your audience at a tradeshow. We can provide you with a variety of signs, from those that are easy to transport in a small van or car, to large-scale displays that we can install on your behalf.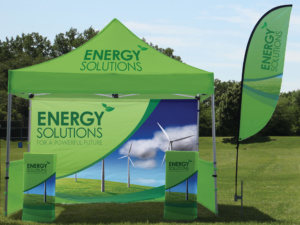 Our portable options include feather signs and retractable banners that are lightweight and very quick for anybody to install. Our large format graphics are printed with high-resolution type and graphics, and vivid colors, so that they will not let you down on the day. We ensure that your message and your graphics will be clear and crisp.
Tell us the message you want people to take away with them after encountering you at a tradeshow and we will ensure that you have the signage to support your message. We will keep company information focused and direct with eye-catching detail to make sure that you do not go unnoticed.
At Dreams Signs, you'll find that not only can we supply all your display needs at an affordable price but these materials will be top-quality with outstanding durability. You will be able to re-use your banners and other display items repeatedly, making them even better value for money. It's an investment that will delivery good ROI and fast. With material that will survive transport between interstate trade shows, you'll only need to make these purchases occasionally.
Talk to the professionals today and we will tell you how we can help you enhance your tradeshow stand. Call us on (281) 513-6622 or email us at info@dream-signs.com.
Written by: Dream Signs – Sugarland, TX.